The infamous judge who sued his dry cleaners for $67 million over a lost pair of pants had his day in court. The judge decided against him, showing that America is indeed a just place to live.
That's right - the pomposity that is Roy L. Pearson Jr. got the smack down he well-deserved.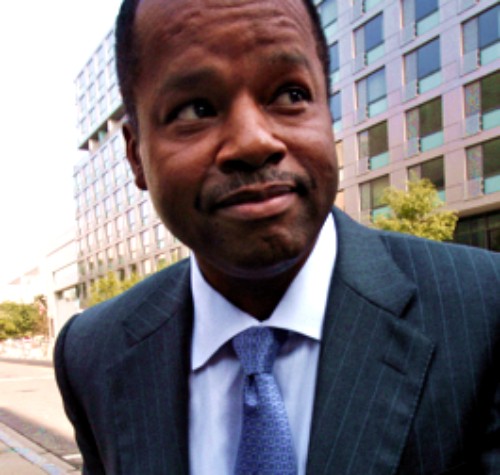 The sad thing is that ol' Roy's a judge, who holds court to interpret the law for others, and he somehow believed that the law gave him the right to drag his local dry cleaners through court for two years and sue for an amount totalling over 80,000 pairs of the pants, which had a value of $800, as he gave it.
And if that's not enough to believe Judge Pearson impeachable, how about his behavior on the stand?
On the witness stand, Pearson broke down in tears and had to take a break from his testimony because he became too emotional while questioning himself about his experience with the missing trousers.
Those weren't pants... it was his woobie.
In his opening statement, Pearson came out swinging, telling the court, "Never before in recorded history have a group of defendants engaged in such misleading and unfair business practices."

Repeatedly referring to himself as "we..."
What is he - the queen??
Pearson sought to present himself as the leader of a class of tens of thousands, if not a half million people, consisting of local residents he believes are at risk of falling for such insidious business practices as posting "Satisfaction Guaranteed" and "Same Day Service" signs. Pearson said at one point in court filings that he planned to call 63 witnesses.

"Mr. Pearson, you are not 'we.' You are an 'I,'" Bartnoff told him.
Amen.
As Pearson explained the details of the missing pants, he struggled to get through his hour and a half of testimony, most of which concerned his credentials and his background.

He became visibly emotional when he reached the point in the story in which he recounted a confrontation with Soo Chung from the dry cleaning store.

"These are not my pants," he testified, and said he told her, "I have in my adult life, with one exception, never worn pants with cuffs."

Pearson testified that Chung insisted, saying, "These are your pants."

Pearson then rushed from the courtroom, overcome with emotion.
He rushed from the courtroom, overcome with emotion, over a pair of pants?

And he presides over justice in court?? Hoo boy. I hope that's corrected as soon as possible.