My habit is to wake up each day and check the news, and to then our reconcile our checking account to our budget.
I woke up this morning to see that we were about $1,000 less than what I expected to see. Scanning the details of it, I saw that Sprint, my cell phone provider, took out my payment. I have autopay with them, so I go to my Sprint account online and find this: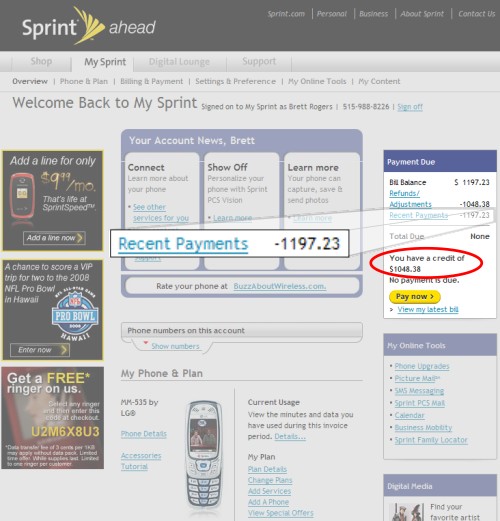 They took out a payment of $1,197.23.
I had called yesterday, as is my habit, to ensure that I knew what the payment amount due is. It was $148.85.
If you look at the image above, you'll see that my account now has a credit (circled in red) of $1,048.38.
That's a gross error.
I'm now on the phone in the customer service queue - 20 minutes thus far - with Sprint. I'm obviously not the only one affected by this.
Nice little Christmas trick. I hope I have no problem getting my money refunded.
ETC: I get through to customer service, and they tell me that they have to create a "case" for my refund. That process takes 3 - 5 business days, and then they issue me a check, so I have to then wait for the mail to arrive.
I'm now on hold to see if I can cancel my Sprint account without paying $200 per phone to get out of my contract.
I hate this company.
MORE ETC: I finally got through to someone who cared, a guy named Sam. He will personally track this to ensure that I get a resolution ASAP. He promises daily contact with me to keep me updated. Cool.
He also explained that they can't do an immediate refund to our bank account because the error is over $1,000 and some department has to determine that this is not an effort to defraud Sprint.
I'll hear from Sam on Monday.