One of the joys of being married to Tamara is knowing her children: Tyler, Tate, and Tess.
On November 6th, a play - The Farnsworth Invention - opens up at the local Des Moines Playhouse. In the picture below, on the right, is Tyler.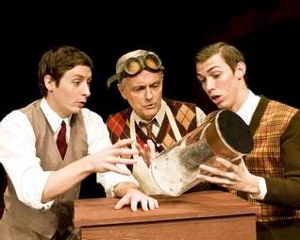 Tyler has always been involved in theater, and two months ago he decided to try out for the Des Moines Playhouse and got a part. He really loves working with the actors and comes home each night excited.
When he came home last night, he talked of how impressed he was with the professionalism of the other actors and how they're helping him become a better actor. We talked for a long time about that and his other interests, and it's great to see him in such a good place in his life. I'm mighty proud of him :)