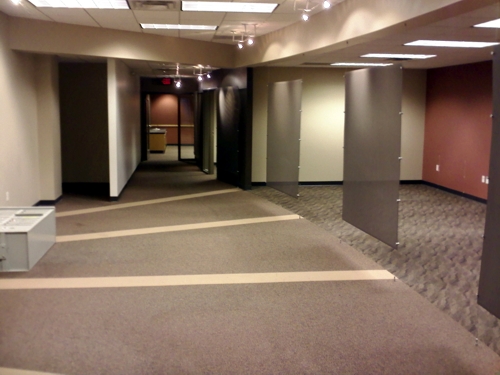 This is our new office space, in downtown Des Moines. Duane, Mandy, and I signed papers of incorporation on Friday, and our enterprise is now christened Worldwide Amplified Media Group. The local operation is Des Moines Amplified.
Our mantra is very simple: "Amplify the Host."
We currently have about 40 hosts, and we're looking to ceiling at 100. I expect that we'll reach that number in two months.
Our arrangement for the hosts is simple: each host gets a weekly show, 1 to 2 hours long. It's free to them - they pay nothing for it. Their show is broadcast and recorded, and after the broadcast they can collect the recordings of both audio and video and put them out there for the world.
This is part of how we amplify the host.
Additionally, we make the very back space available for our hosts to use as a seminar room. There, they can use the Smart Board for presentations to groups of 30 or so people. For a host, they can use the space for $25 for a 90-minute block of time. They can record the video and audio of the session.
Yet another part of how we amplify the host.
We'll be conducting classes - for free - in the seminar room to teach our hosts how to become better presenters, speakers, entertainers... all taught by local broadcasters and professionals. In this way, we help their ability to educate and communicate. The classes will not only improve their on-air performance, but likely strengthen their career as well.
More amplification of the host.
There are other things that we plan for them, but our goal is simple: give the host the most attractive space and tools available to become bigger than they are today. Our intention is not that they can make their income as a host, but that they can double their income.
We aim to have 100 of the most interesting people in Des Moines, a diverse crowd of varied interests and expertise, showcasing their skills and passions, improving their careers and connections. If we're able to drive value into our business and if we're able to execute our plan, then I expect that we'll open at least 10 affiliate locations by the end of the year, based upon our business model.
The fun begins :)