As many people know, I was one of the founders of the Des Moines Tea Party. We got 3,500 people to that April 15th event, as estimated by the troopers who were there. But shortly after the event, it went off the rails for me and I backed out of it. Let's call my stance "supportive from a distance."
Due to an unfortunate circumstance, the guy who was to emcee the second event on July 4th had to fly to the east coast and I was asked to fill in. So I did. About 2,500 people attended that event.
I also attended a few other tea parties in other cities, but just as a spectator.
It's from this rather in-depth experience that I come to my conclusions about the tea parties.
A bit of definition: all politics are pressure and intimidation. Period. End of story. Politicians respond to only two stimuli: pleasure and pain. They love your support and any bon mots you want to throw their way, but once you say something nice about them, they figure that you're in their camp and they no longer need to spend any time worrying about you. They know that you'll vote for them, and that's all that they care about. That's what happens you give a politician pleasure - you're only useful to the degree that they can use you in their marketing.
Pain is much more useful. Sad, but true. Politicians hate to be embarrassed or humiliated. Threaten to do either one and they are likely to work to avoid such an event. They'll work to intimidate you in response. But if you persist, they might buckle, unless someone else is intimidating them harder.
Back to the tea parties...
The tea parties are filled with amateurs. They stand together and shake their fists at the sky.
Numbers can intimidate a politician. It can seem threatening. So being the political professionals that they are, they know how to use embarrassment and humiliation in retaliation.
"Selfish racist teabaggers!" the pros call out. It's a form of intimidation.
And so half the crowd of citizens go home red-faced. Nobody likes the label of "racist." And if the tea party has no central call to action, then people just gather to howl at the moon. Big deal. You can't ask people to take time off work if there is no compelling outcome offered in exchange for their valuable time.
Which is why this year's April 15th Des Moines Tea Party, of which I was not a part, only drew about 1,000 people. There was no central call to action, and there was no leadership that understands the game of politics. I heard it was pretty anemic from several people who attended.
I don't think there will be a tea party next year without a change in leadership.
Last fall, I decided to put all of my efforts instead into the election of a guy I know and support. Should he get elected, my efforts will have a much more permanent effect. Every citizen should do that.
Last fall, I invited folks to a series of brainstorming sessions. The outcome of those sessions, for me, was this chart: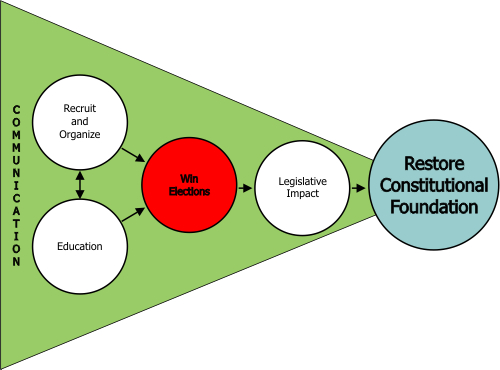 Congress makes the rules. Don't like what Washington is doing? Then support someone who will help to change what Congress is doing by being in Congress. That is the most effective use of your time and money, not the tea parties - unless the tea parties are a focused means toward that end.
There are some states where the tea parties are having significant impact and they are growing, but that's because those folks have effective and politically savvy leadership focused on a clearly stated cause.
Every state, including Iowa, needs that. I hope it happens.