It's been over a month since I last painted. And like, I forgot how.
For the last month, my brain has been in high gear to get this web site done. Lots of lots of left-brained activity. In that mode, I think fast and I run at it to get it done. Plus, I've had some high octane projects to do at work, so speed has been my way of getting around.
But not so with painting. It's about slowing down, and getting to know the subject, and seeing past my preconceptions. Which of course, I didn't do.
I bought a grill today. It was a cheap grill, but a grill nonethless, and I'm probably the only 40-year-old man in America who has never used a gas grill in his life. So in honor of my first grilling and since I've been away from it for so long, I thought I would paint. I chose a picture of a red pepper and onions, which was part of tonight's very scrumptious steak dinner.
Nice picture. And in my mind, I thought, well this should be easy.
But that's the trick, see. Every painting is equally as "hard." I forgot to rid my mind of the idea that I'm painting a red pepper and a sliced onion. So my first attempt at this gorgeous red pepper looked more like a sketch of Bob the Tomato.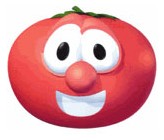 Painting is good for me. I'll take a crack at this in the morning.