Over the weekend, I went over to Erin's house and we painted for a few hours. And we laughed a lot. Which was very therapeutic for us both - not to say that we needed it, but the company and the whimsical atmosphere were delightful.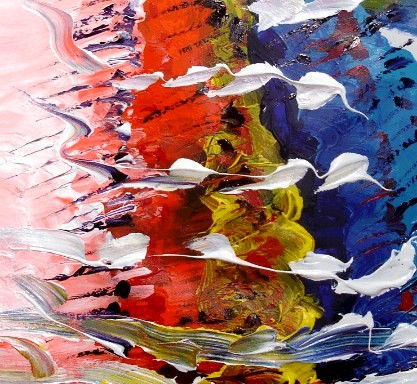 What is it? I don't know... and it doesn't matter. It's "Sunday," painted without thought and in joy. And this one...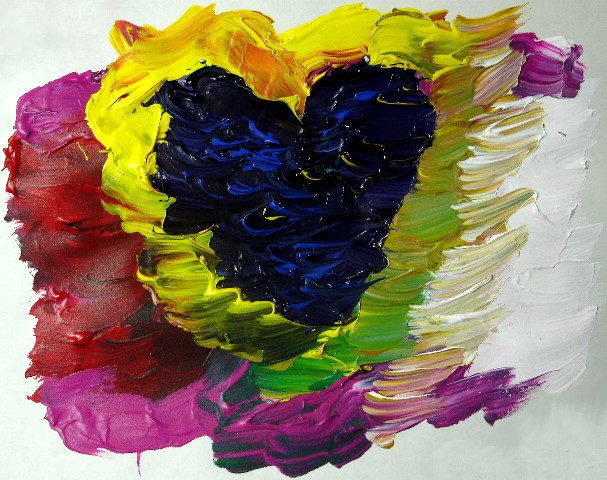 Painting has become a favorite way to spend time with friends, just goofing around. It's color and kindergarten. Fun :)
I hope to do more of this with those of you who browse the site and would be open to painting with me. Especially as I get into the breakneck pace of February, it will be great to offset the seriousness of producing cards with the fun of the brush while hanging with friends.
ETC: "Skinny Jeff" stops by and leaves a comment overnight. He has a web site (I won't link to it, but he lists it and you can click into the comments to see it) and he asks me to visit it and link to it. Because his site is at least relevant (art), I won't consider it spam, but that's kind of what he's done. My trivia mechanism has curtailed all of the bot spam.
So I go to his site and it's a lot of text (and Google ads) about learning to paint. Not much of it is really very helpful... nothing demonstrated in a step-by-step method or anything. He kind of talks around the subject without explaining how.
And then the irony... in this post, which discusses how I just willy-nilly painted with Erin over the weekend, he posts a comment, when at his web site, he says this:
"Often people with a certain artistic predisposition think that all they need is paper or a canvas, brushes, paints of different colors, and off they go to the path of artistdom!"
Hmm... well, that's pretty much what Erin and I did. It was carefree painting with no artistic agenda other than to have a good and judgment-free time.

I respect his desire to make a buck, and I wish him the best, but for anyone who wants to paint or draw, my favorite books are as follows:

Those are my recommendations.

On the other hand, if you just want to enjoy painting for the fun of it, with no real serious agenda, I recommend Life, Paint, and Passion.