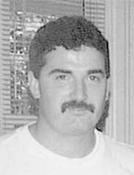 Michael Lyons loved his family.
He met his wife, Elaine, while a freshman in high school at the Yonkers deli where she and he both worked. He was always playing jokes at the job. He would sometimes glue a quarter to the floor and watch customers struggle to pick it up, or fill co-worker's shoes with corned beef fat. He was always ready with a joke.
He typically held down two jobs, but when he came home, he was all about his family. His daughter, Caitlyn, got all of his attention and he would help in any way with her. After her birth, he slowed down a bit. Elaine was expecting their second child when he responded to the needs of New York on September 11.
Michael was a firefighter in Squad 41. For his second job, he drove an ice cream truck because it gave him such pleasure to see the kids' faces light up when they came to buy something. He used the extra money from his second jobs to buy a house in the town where his wife grew up.
Michael's normal way of greeting people was to say, "Hey, bro." Even his lieutenant allowed the casual greeting because of Michael's engaging and passionate way. Michael was a seven-year-veteran of the New York City fire department. His body was never found.
On November 2, 2001, his second daughter, Mary Michael Lyons was born. Elaine named the baby girl after her father.