About a week and a half ago, I took my bike to the shop for its spring tune-up. It needed it big time. I haven't ridden since I fell off my bike in December, so I've been quite anxious to get back on. My herniated back is better and even though I broke my foot, it's bearable - I'm just tired of being immobile.
I picked up the steed at 6 PM and had to wait until later tonight for a ride. I videotaped it. Click on the picture to take a look at about a minute and a half of the ride.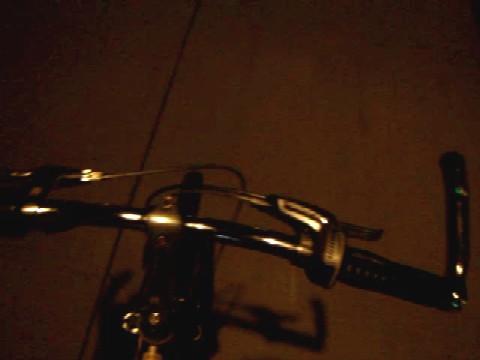 What you see in the video (done with my little Cybershot) is part of my route to work in the mornings, which I will begin again now. I ride down a sidewalk, the video goes black for just a bit as I negotiate a U-turn waiting for a passing motorcycle, and I move into the parking lot of a building with a mid-section that actually looks like R2D2. It's about halfway to work.
The breeze was lovely. The bike in tip-top shape. And the freedom to be moving again on my bike is wonderful. What a great night :)