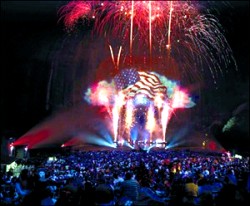 Tonight, I had the blessing of getting a better knowledge of what, I think, it is to be Southern. We attended the Stone Mountain laser show, shortly after Independence Day, and it was quite a show, and my first-ever laser show. Kinda cool...
But as I watched, they played songs of Georgia, patriotic songs, and songs of family. And it occurred to me that, almost without exception, those I know from the south are deeply proud of their heritage and family, their city and state, and their country. They are unabashedly loyal. They won't throw these things under the bus. It's a line you don't cross.
And so as I leaned against my southern belle wife watching the show, I felt yet again incredibly lucky to be a part of her family. They've come to know me and I am now woven into the fabric of their bonds. I'm one of those lines that won't be crossed. That's a safe place.
I also appreciate the South. Indeed, I am grateful for the South and those who herald from it. They're patriots and just really good people.
I'm from Iowa, and Iowa too has wonderful people. But there's something much deeper and more firm in the South than what I find in Iowa. Unless your family has a century farm, an Iowan isn't steeped in heritage like a Southerner is. The laser show was full of themes that echoed those emotional and historical ties.
It's good to be in Georgia at this moment. It's a great place to celebrate our nation and be surrounded by family.